FOR IMMEDIATE RELEASE:
Lost Romance Guitarist Gerry Perlinski Signs Endorsement Deal With Framus Guitars.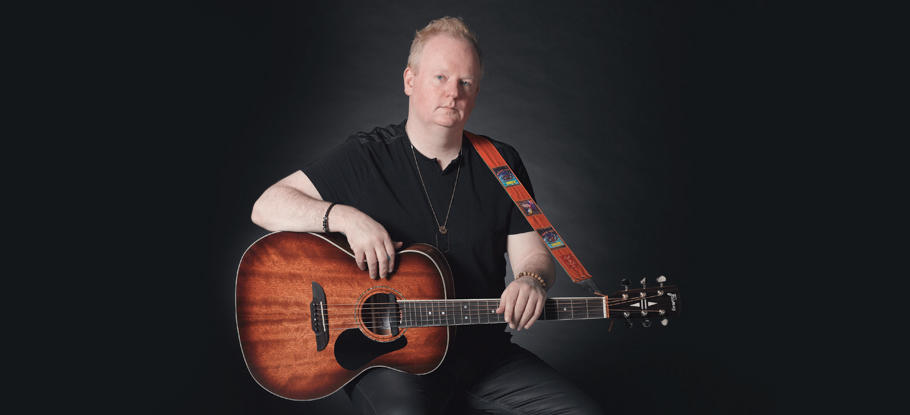 Photo Credit – 2016 Mona Lennon
New Brunswick, NJ – February 2nd, 2017 – Gerry Perlinski, guitarist and vocalist with New Brunswick, NJ alternative rockers, Lost Romance has signed an endorsement deal with German-based guitar manufacturer, Framus. Framus was founded in 1946 and has a sister company with Warwick, both located in Markneukirchen, Germany.A long time evangelist of Framus guitars, the New Jersey native came across his endorsement deal in a somewhat unusual, but very organic way. While on a solo acoustic tour throughout the Mid South in the summer of 2016, Gerry had what most musicians would consider a disaster. Four days into the tour, Gerry had the opportunity to perform at one of the most well-known venues in Nashville, TN: The Bluebird Cafe. Arriving from Kentucky late that afternoon, he walked into the venue and began to tune his guitar. To his horror, the intonation had gone awry from the heat during the trip. Rather than throwing in the towel, he tuned it the best he could and to his surprise, it stayed in tune for the duration of the performance.
The following day it was clear the guitar was out of commission. Gerry searched for a Framus dealer in the area and was pleasantly surprised to find the only Framus North American showroom; located right in the heart of Nashville! The team at the showroom was incredibly accommodating. While Gerry shared his story, he played a number of Framus acoustic guitars and ultimately chose the FG 14 M – Vintage Sunburst with a Solid Mahogany top. As a result of this experience, he and the Framus team came to an agreement and the endorsement deal was struck.
"I've been playing a Framus acoustic for over fifteen years and have written countless songs on it," said Perlinski. "I wanted to continue that creative magic with this guitar."
Gerry is pleased to join the Framus/Warwick family of musicians who are endorsed by the company, which include members of Metallica, Mick Jagger, 50 Cent, Alice In Chains, Bon Jovi, Accept and many more.
Lost Romance's new single, "Heart On A Wire" is available to stream and download on Itunes, Spotify, Bandcamp and Soundcloud here: http://www.soundcloud.com/lostromancerock.
Their new full length album, "Strum It Again" will be available in 2017.
To contact Gerry or Lost Romance for an interview:
Email: bookings@lostromance.net
Official Website: https://www.lostromance.net
Social Media:
Twitter: http://www.twitter.com/lostromancerock
Instagram: http://www.instagram.com/lostromancerock
YouTube: https://www.youtube.com/lostromancerock
Facebook: http://www.facebook.com/lostromancerock
SoundCloud: http://www.soundcloud.com/lostromancerock
Bandcamp: http://lostromance.bandcamp.com
Spotify: https://play.spotify.com/artist/4ATDXPEm9vVb1dhP79FX0y
###