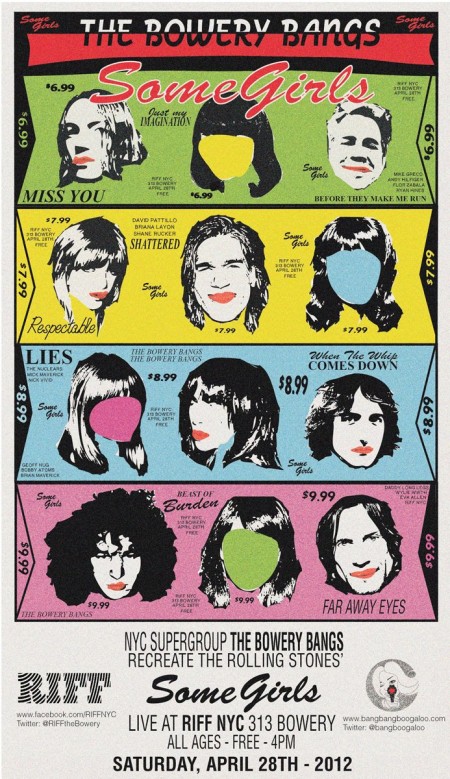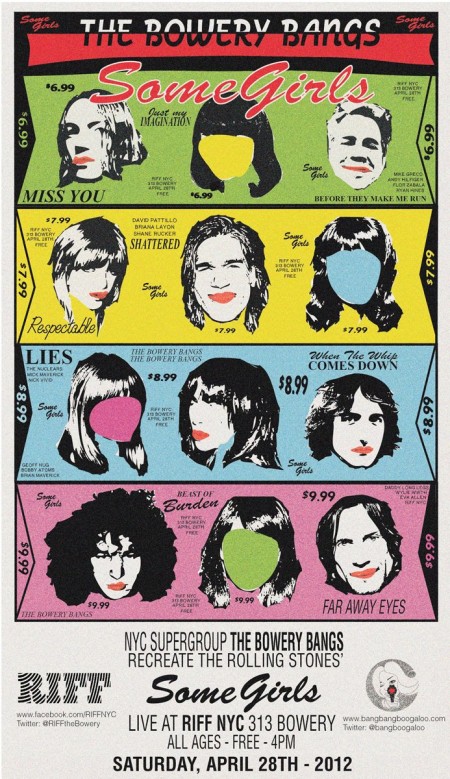 THIS IS A SATURDAY MATINEE AT RIFF!!! 
THEN MAGIC MONDAY APRIL 30 at TAMMANY HALL. 
FREE SHOWS!!!!
Bang Bang Boogaloo, Andrew Charles, and Ky Digregorio present the NYC supergroup The Bowery Bangs performing The Rolling Stones "Some Girls" album at RIFF on the Bowery in NYC. Featuring members of The Dead Exs, Daddy Long Legs, The Madison Square Gardeners, Enemies!, Prospector, The Zabalas, The Dirty Glamour, Briana Layon & The Boys, The Colored Boys, Lost Romance, and backed by the amazing Nuclears with Daddy Long Legs on harp.
Featured singers:
Andy Hilfiger
Briana Layon
Daddy Long Legs
David Pattillo
Eva Allen
Flor Zabala
Nick Vivid
Ryan Hines
Shane Rucker
Special guest on guitar:
Aaron Lee Tasjan
Lap steel: Lost Romance's Gerry Perlinski
This is gonna be a killer lineup playing a killer record. Lets do it! FACEBOOK INVITE
Side one
1. "Miss You" – David Pattillo
2. "When the Whip Comes Down"- Flor Zabala
3. "Just My Imagination" – Ryan Hines
4. "Some Girls" – Briana Layon
5. "Lies" – Nick Vivid
Side two break (Warren Zanes former VP of Rock N Roll Hall Of Fame tells a bit of history about the record)
6. "Far Away Eyes" – Daddy Long Legs
7. "Respectable" – Andy Hilfiger
8. "Before They Make Me Run" – Eva Allen
9. "Beast of Burden" – Shane Rucker
10. "Shattered" – The Bowery Bangs
Some Girls is the 14th British and 16th American studio album by The Rolling Stones, released in 1978 on Rolling Stones Records. It peaked at #1 on the Billboard 200, and became one of the band's biggest-selling albums in the United States, and has been certified by the RIAA as having six million copies sold as of 2000.
Then we are gonna take it to MAGIC MONDAY APRIL 30!